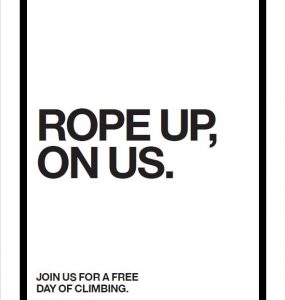 We are excited to announce that we have teamed up with The North Face and 49 climbing gyms around the world to offer a day of FREE climbing!
On Saturday, August 19th, from 10am to 8pm, climbing will be free! Rental gear is included!
For every person who walks in our doors, The North Face will make a $5 donation to Paradox Sports, an organization committed to making climbing accessible to people with physical disabilities.
Please Note:
We expect a good number of people to come through our door for this awesome event. The number of people who can climb at any given time is limited by the amount of gear we have available and space in the gym. Because of this we cannot guarantee that you will be able to climb, and there will be no rain checks for free climbing. This is the only day we are offering this special.
Every person who comes into our facility, climbing or not, will need to have a Visitor Agreement Form filled out. Click HERE to fill it out ahead of time.
We will be giving tours every half hour. If you are new to our facility or haven't visited us in six months or more, you will be required to go on a new / refresher facility orientation tour. The last tour will be at 7pm.
Please review our Climbing First Visit Guide for gym policies, child specific rules, and recommendations for what to wear and what to expect.