Our Youth Climbing Club is wrapping up for the fall season. The Club, lead by Ryan Shazor and Libby Shafer, meets every Wednesday evening and is full of enthusiastic kids.
What is our Youth Climbing Club?
The River Rock Youth Club is for young climbers, 8-15 years old, looking to explore the sport and have fun. Our coaches emphasize the fundamentals of climbing and fitness while also leading games and fun exercises. The games include everything from blind-folded climbing and auto-belay twister to drawing pictures while hanging on the wall, all of which also teach useful climbing skills of balance, movement, communication, and mental strategy. The Club offers less commitment than our Youth Competitive Climbing Team, but will prepare those interested in the Team.
Interested in signing your kid up for the spring?
The spring season will run from January 27-May 4, so sign your kid up today! Get more info and register HERE!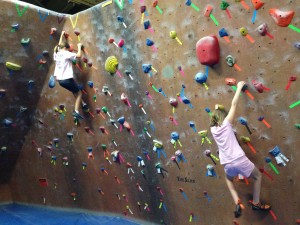 The coaches always emphasize a good warm-up before the games and activities commence.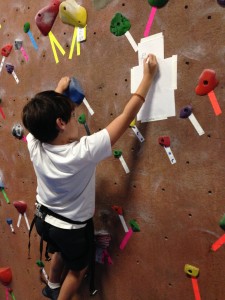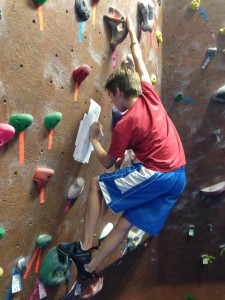 One of the fun activities is drawing an assigned object, like a castle, while hanging off the wall. Each kid can only draw one part of the object, so while the activity stresses learning good rest poses while on the wall, it also teaches teamwork.