When:
February 4, 2020 @ 6:30 pm – 7:30 pm
2020-02-04T18:30:00-05:00
2020-02-04T19:30:00-05:00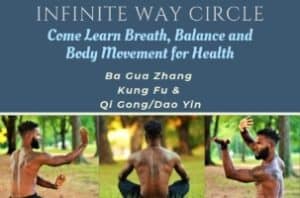 **All classes are cancelled until further notice**
Qi Gong is an ancient Chinese exercise and healing technique that involves meditation, controlled breathing and movement exercises. Qi is a concept from traditional Chinese culture that roughly means vital energy, information,
breath or spirit. Tai Chi at a higher level is a form of Qi Gong, provided that the fundamental principles of Tai Chi are applied in the practice. While low-level Tai Chi is solely a physical exercise, at higher level it transcends into a Qi Gong discipline. The roots and history of the martial arts style of Ba GuaZhang can be traced back to 19th century China. It is a soft and internal style of martial art, making it comparable to Tai Chi Chuan.John Lewis is the owner and founder of Infinite Way Circle, an interdisciplinary spirit-nature system focused on Full Body, Mind and Spirit integration to create balance, vitality and peace within allowing the same to permeate into the
world. Through our infinite connections to source we can learn to retain what isvital, love, releasing all else that disconnects us from divinity, separation. The Infinite Way Circle offers instruction in Ba Gua Zhang Martial Arts, Dao Yin/Qi Gong, Spiritual coaching and workshops, public and motivational speaking, and healing through nature-based education.Classes are included in River Rock membership. The drop-in rate is $15 for non-members.
Scheduled Classes:
Tuesdays from 6:30-7:30pm