Climbing League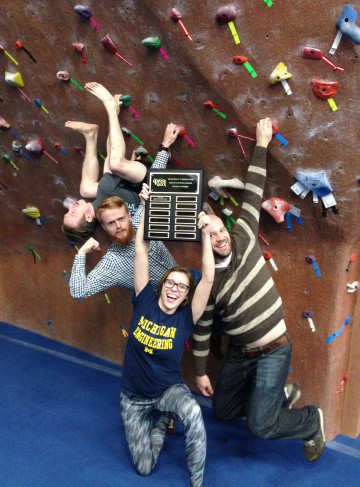 Want a little bit of friendly competition? Want to meet some new people? Join the River Rock Climbing League!
The River Rock Climbing League is a six week long, friendly, team competition that will get you on the wall and having fun with fellow climbers. The League is open to all skill levels; we use a scaled scoring system so no matter your experience, you can fairly compete against anyone else. Form a team of 4, or sign up on your own and we will assign you to a team. Must have at least 3 teams to run. To compete you must be 14 or older. Each team will need a team captain and a team name – have fun with it, just make sure it's appropriate to all audiences!
Click here to sign up for the Climbing League!
Schedule:
Orientation kick off on Monday, September 25 between 7 and 8pm; come during this time and we will get you up to speed on how the Climbing League works. One member of your team must be present.
6 weeks – week of September 25 through week of October 30
Come in anytime each week, but you must all come together as a team.
If you miss a week, you have a chance to make up one session the week of November 6.
Winners will have their team name and their last names engraved on our Climbing League Plaque, forever preserved in history!
Cost:
$15 per person, $60 per team – member and non-member rate (must pay in advance).
The cost does not include day pass or gear rental.
Scoring:
Participants should determine what their starting level is, i.e. what is the hardest problem you can climb prior to the start of the league. Based on that starting level will determine what points you will get for each climb.

See Figure 1.
This is on the honor code! If you are a V3 climber, you can probably onsight higher than a 5.9, so please be honest. See Figure 2 if you are unsure about the boulder to rope comparison.
We anticipate that your climbing ability will improve throughout the 6 weeks, therefore we anticipate your starting level to increase as well – adjust accordingly. The River Rock reserves the right to adjust your starting level at any point if we feel it is necessary.

You may boulder or rope climb, or both.
If the boulder problem tops out, you must too.
You may repeat a climb the following week for a score, but you may not repeat a climb that night for an additional score.
When a climb is successfully completed (without falling, weighting the rope, or going off route) it may be counted towards the score. Must have two witness initials. At the end of the session, write down the top three climbs for each team member and turn the score card in to the Front Counter. See sample score card, Figure 3.
The entire team must be present to participate; if you are one member short for an evening, then you may still participate but that missing team member cannot make up their lost score.
The River Rock will tally each team's scores and post on the website, in the gym, and on social media.
The team with the most points at the end of the 6 weeks wins!
Figure 1
Bouldering: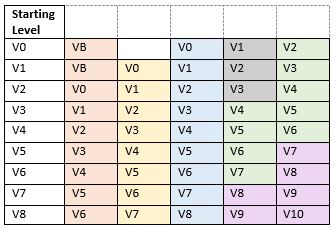 Roped Climbing: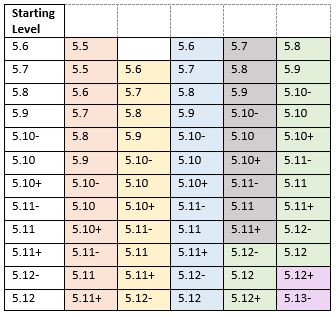 Figure 2
Rope to Boulder Grade Comparison: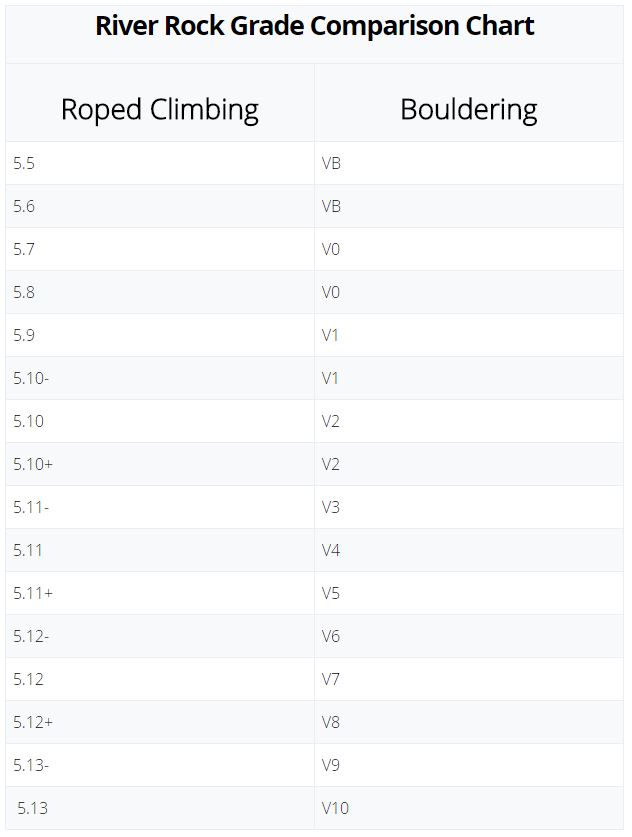 Figure 3
Sample Score Card: