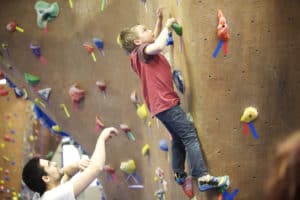 We are a kid-friendly gym.  Many gyms are not.  We'd like to remain this way, and need your help to do so.  Please follow our rules and regulations and respect others while in the gym, so we can remain kid-friendly.  We consider anyone under the age of 18 a minor.  The minimum age to climb is 3 years old.  All minors under the age of 18 must bring a Visitor Agreement with them that's completed and signed by their parent or legal guardian.
** Please carefully review the complete GYM POLICIES of this facility, prior to participating in climbing or any other related activities.
General Gym Policies
Anyone entering the gym must read and obey posted rules and regulations.
Anyone entering the gym must have a completed Visitor Agreement form on file at the front desk.
Minors 17 years or younger must have their Visitor Agreement form signed by a parent or court appointed legal guardian.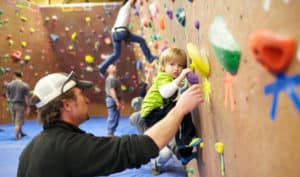 Youth Specific Rules – for those under the age of 14
Children under the age of 3 years old are not allowed to walk or be placed on the blue gym flooring. They may be carried to a "No Fall Zone" by an adult, but must remain in that area with 1:1 supervision. Any adult supervising a child under the age of 3 may not count as supervision of any other youth in the gym.
The youngest age to climb in the River Rock is 3 years old, unless specific permission is given by management. Homeschoolers on our Homeschool Friday must be at least 5 years old.
Unchaperoned drop-offs of any minor 13 or younger are not permitted.
Adult to participant ratio of youth 3-13 years old must not exceed 1:3, adult to youth. Youth inside the gym ages 3-13 must be constantly and actively supervised by an adult 18 or older. Unsupervised children are not permitted to climb.
Parents/Guardians/Chaperones are responsible for the behavior of their children or youth they are supervising.
Any youth 13 and under must be connected/disconnected to an auto-belay device by an auto-belay certified adult 18 years or older.
All youth 13 and under must pass the Top Out Clinic in order to top-out in the bouldering section.
Follow all River Rock Climbing facility rules and regulations.