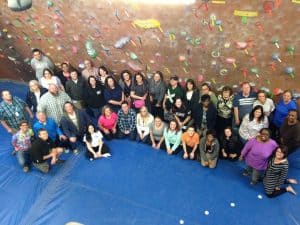 Looking for a unique Group Event?
Want to do something fun and different?
The River Rock has just what you are looking for!
Groups
Let the River Rock host your next special event. We can include gear rentals, instruction, and even arrange local catering. We have two different pricing options that can be found on the Group Pricing page. Not sure what works best for you or have some questions? Please contact our General Manager Jared Rigby for more information or call us at (540-685-2360).
What types of groups can we host?
Group teambuilding facilitation

Business groups

Church groups

Scout groups

Lock-ins

Retreats

School trips

Activity groups

Family Reunions

Room rental / meeting space available

And more!
Lock-in's
Ever dreamed of having the entire facility to yourself? No lines, no waits? Just full of friends/family? If so, then a Lock-In is just for you!
You will have exclusive access to the River Rock's ropes, auto belays, and boulders, as well as the Community Room where you can store all your food and drinks. The River Rock will have staff work with you for the first hour going over the gym tour, auto belay orientation, and verification of top-rope belay skills. One staff member will remain thereafter to help answer facility questions, be available for route beta, and be responsible for maintaining gym standards.  Click HERE for more information.
Birthday Parties
We organize 2 hour birthday party packages exclusively for current River Rock members.  You get a private party room, a private area of the gym just for your group, and our staff take care of your group while climbing!  Click HERE for more information.