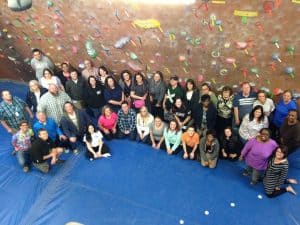 Looking for a unique Group Event?
Want to do something fun and different?
The River Rock has just what you are looking for!
Lock-in's
Ever dreamed of having the entire facility to yourself? No lines, no waits? Just full of friends/family? If so, then a Lock-In is just for you!
You will have exclusive access to the River Rock's ropes, auto belays, and boulders, as well as the Community Room where you can store all your food and drinks. The River Rock will have staff work with you for the first hour going over the gym tour, auto belay orientation, and verification of top-rope belay skills. One staff member will remain thereafter to help answer facility questions, be available for route beta, and be responsible for maintaining gym standards.  Click HERE for more information.
Birthday Parties
We are not currently offering staff-supported parties.  That doesn't mean you can't bring a group to party at the gym – it's a great place to celebrate.  We just don't have enough staff currently to be with you the whole time while your group climbs.  Our staff will give you an orientation tour, outfit your climbers with the gear needed and show you how to operate our auto-belay devices, then turn you loose to enjoy yourself.  You just need to make sure you have enough folks to help you supervise.  Our policy is a 1:3 ratio of adult to youth (youth under the age of 14).  We can get you a discount from our regular rates with 7 days advance notice and a $75 deposit.  Call the gym to get it set up.