The River Rock is Committed to Community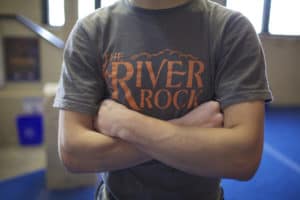 Welcome to The River Rock. Our mission is to provide a community gathering space where people of all ages and all abilities,  from all walks of life can come together, support one another, challenge one another, and most of all have some fun while enjoying the fantastic sport of rock climbing.  By providing this space for the community we hope that the River Rock will be both a hub and a gateway for introducing the beautiful Appalachian outdoors to those who may not otherwise experience the abundant nature that surrounds us.  Do we want you to climb in our gym?  We definitely do! But more importantly we want to provide the space, equipment, expertise, instruction, environment, and vibe that leads you from our gym onto your first trip or your 100th trip to one of the many incredible outdoor adventures awaiting you.
We hope to be the hub of the Roanoke region's climbing community by providing incredible climbing, instruction, and service to complete beginners and seasoned experts alike.  Whether you are an avid climber with years of experience  or someone who has never experienced the thrill of the sport, you'll find exciting terrain, excellent instruction, and friendly faces at The River Rock.
We offer over 4,500 square feet of bouldering with a large top-out section, an average height of 12 feet and a peak height of 16 feet.  We also offer an additional 4,000 square feet of roped climbing with 26 rope stations for both top-rope and lead, with an average height of 30 feet and a max height of 37 feet.  The facility has 8 auto-belay devices.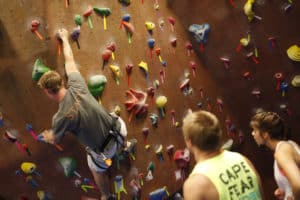 Some of the services The River Rock provides are: beginner lessons (group and individual), climbing and bouldering clinics, birthday parties, lock-ins, memberships, climbing competitions, yoga and fitness, and special events.
Are we missing something here?  If so, please drop us a line via our Contacts link and let us know your thoughts.  We love feedback because it helps us to better serve our community, while making us a stronger business.
We Decided to Develop The River Rock in 2012 for these reasons:
Being nestled in the heart of the Appalachians, Roanoke has always had a core outdoor community. But in the past few years, that community and their needs have grown. We hope to meet one aspect of those needs by providing a climbing outlet to all those climbers, and climbers-to-be, living in the valley.

We miss the good ol' Rocwood on Reserve Avenue and wanted to recreate a cool place to climb, work out, and meet new and old faces in a friendly community environment.

We were introduced as kids to climbing through climbing gym experiences and those experiences took us well beyond the walls of those gyms to beautiful natural settings, good friends, and great times. We hope to introduce the sport and the greater natural world to those who might not otherwise experience these healthy pleasures.

Climbing really creates community. You won't see people wearing headphones or staring at TV's in a climbing gym. Nope, you'll see people conversing, helping one another, challenging one another, and overall forming tighter social bonds.

The River House provided an awesome opportunity to wrap up the Greenway, a tap house, a hip apartment building, and our gym into one groovy package.
In short, the time was right in Roanoke, and rather than build a bouldering wall in our garage, we thought we'd share something bigger and better with our community.