River Rock Climbing First Visit guide
If you're planning your first visit to our gym, please read the following info:
GYM POLICIES
Please carefully read our GYM POLICIES, prior to visiting our gym.
VISITOR AGREEMENT
Every living, breathing person entering our active climbing areas (climbing or not) must have a properly completed visitor agreement on-file with us.  Anyone under the age of 18 must have a visitor agreement completed and signed by their parent or legal guardian.  No exceptions.  You can complete and sign our visitor agreement when you arrive at our gym, or do so on our website.  We suggest doing so on our website, as it will save you some time when arriving at our gym.  Visit our VISITOR AGREEMENT PAGE to complete the visitor agreement online.
CHILDREN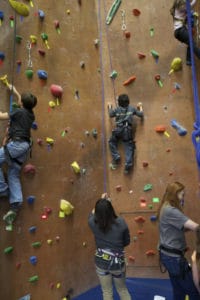 We are a kid-friendly gym.  Many gyms are not.  We'd like to remain this way, and need your help to do so.  Please follow our rules and regulations and respect others while in the gym, so we can remain kid-friendly.  We consider anyone under the age of 18 a minor.  The minimum age to climb is 3 years old.  All minors under the age of 18 must have a visitor agreement with them that's completed and signed by their parent or legal guardian.  We highly suggest reading the complete list of YOUTH SPECIFIC RULES,  prior to visiting our gym.
Any youth under the age of 14 must be actively supervised by an adult. We require 1:3 ratio of adults to youths in our facility.
Children under the age of 3 years old are not allowed to walk or be placed on the blue gym flooring.  They may be carried to a "No Fall Zone" by an adult, but must remain in that area with 1:1 supervision.  Any adult supervising a child under the age of 3 may not count as supervision of any other youth in the gym.
CLOTHING & EQUIPMENT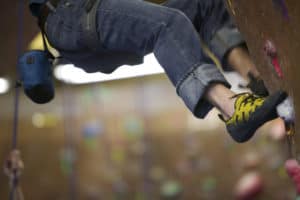 We suggest loose fitting athletic clothing.  Pants or longer shorts are recommended as they protect your legs from the leg straps of the harnesses. We rent the necessary equipment; climbing shoes, which must be worn while climbing in our gym, and a harness for roped climbing.  We have "one-size-fits-most" standard gym harnesses available – we find the adult harnesses fit up to about a 46″ waist. Our shoes range from child's size 11 to adult size 17. We disinfect our shoes after each use, but suggest wearing socks when using our rental shoes.
Our auto-belay devices allow a weight range of 25-310lbs.
INSTRUCTION
Our staff members are trained to provide all first time visitors with a basic facility orientation tour and basic climbing instruction.  Our staff is also available to answer any questions you may have while climbing, and can assist you when not assisting other guests in the gym.  If you'd like some extra help or additional instruction, we offer many CLIMBING CLASSES  and also offer private instruction for $25 per hour.
DRINKS & SNACKS
We have healthy snacks and drinks available for purchase.  We also have a water fountain, so bring a water bottle to fill-up.  The Wasena City Tap Room & Grill is immediately next door and has a great menu.  We have cubbies and lockers for storing items and there are non-climbing areas where you may sit down and enjoy a drink and/or snack.
TIME FRAME
It takes approximately 20 minutes to check you in, give you a facility orientation tour, outfit you with gear, and get you on the wall and climbing.  Most first timers climb for an average of 1.5 hours, so we say allowing approximately 2 hours for your first visit is a good idea.
THE PROCESS
Step 1 – First you'll check in at the front desk.  If you haven't already completed the visitor agreement online, you may do so using one of our iPad kiosks.
Step 2 – We'll give you an orientation tour of our facility, which takes approximately 10-15 minutes.
Step 3 – We'll outfit you with a climbing harness and a pair of climbing shoes.
Step 4 – We'll give you some basic instruction and show you how to operate our auto-belays.
Step 5 – You climb and have a blast!
ADDITIONAL QUESTIONS?
Please visit our Frequently Asked Questions Page for additional info, or contact us directly by visiting our CONTACT Page.