Gym Policies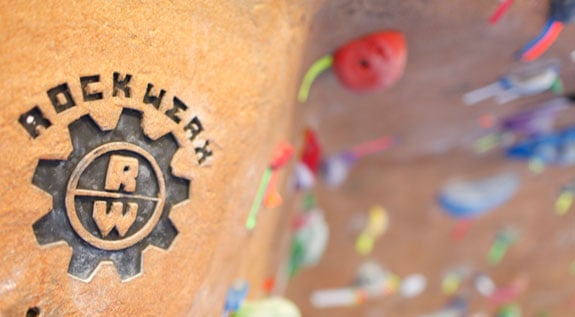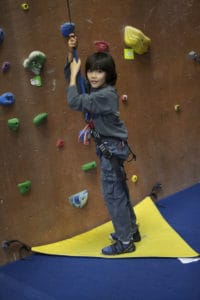 WARNING: Climbing is dangerous! Your safety is your responsibility.
HEALTH: Before beginning any fitness program or changing your physical activity patterns, you should always consult with your doctor or physician, particularly if you have been inactive, are overweight, or have or suspect any sort of medical condition that might be worsened by exercise and other physical activities.
CHECK-IN: Anyone entering the River Rock must check in at the front desk. First time visitors entering the active climbing areas must properly complete a Visitor Agreement and Acknowledgement of Risks form, prior to entry.
FACILITY ORIENTATION: Any visitor who will not be staff-assisted is required to attend a Facility Orientation or "Tour". Non-staff-assisted visitors are responsible for taking the necessary steps to participate in the Tour.
AGE RESTRICTION: The youngest age to climb in the River Rock is 3 years old. Children under the age of 3 years old are not allowed to walk or be placed in the active climbing areas and require 1:1 – adult to child – supervision. Any adult supervising a child under the age of 3 may not count as supervision of any other youth.
ADULT SUPERVISION: Adult to participant ratio of youth 3-13 years old must not exceed 1:3, adult to youth. Youth inside the gym ages 3-13 must be actively supervised by an adult 18 years or older. Parents/Guardians/Chaperones are responsible for the behavior of their children or youth they are supervising.
INSTRUCTION: River Rock does not allow any instruction in the gym other than that offered by our instructors and staff.
AUTHORIZATION: Only participants authorized by River Rock may utilize the auto-belay devices, top rope belay, lead climb, or lead belay. The appropriate River Rock skill card must be visibly displayed on the climber's harness at all times.
AUTO BELAY ORIENTATION: Any individuals who will not be staff-assisted are required to attend and successfully pass an Auto Belay Orientation prior to operating an auto belay device. The minimum age to self-operate the auto belays is 14 years old. Adults 18 or older may connect/disconnect minors under the age of 14. Non-staff-assisted persons are responsible for taking the necessary steps to participate in the Auto Belay Orientation.
BELAY AND TYING IN: All forms of belaying must comply with River Rock's standardized methods. Climbers and belayers must clearly communicate formal belay commands and perform safety checks. Roped climbers must tie directly into their harness (as harness manufacturer suggests) with a figure 8 follow-through knot. No sitting or lying down while belaying. Participants must be at least 14 years old to belay or tie in.
LEAD CLIMB AND LEAD BELAY: Participants must be at least 16 years old to lead climb or lead belay.
BOULDERING: Topping out on boulders is allowed only in designated areas. All youth under the age of 14 must pass the River Rock Top Out Clinic and be wearing the River Rock wristband in order to top-out. Never climb up the designated descent on the bouldering top-out structure or pass through the opening (the "cave") between the different bouldering sections. We highly recommend the use of a spotter when bouldering.
DANGEROUS BEHAVIOR: Do not swing on the ropes. NO running, jumping off of padding or furniture, gymnastics, back flips, wrestling, etc. Unruly conduct, not following staff directions, or not following the rules of the facility will be cause for removal from the gym. The use of vulgar language or improper conduct is not permitted. Please refrain from yelling or screaming.
POTENTIAL HAZARDS: Immediately report any problems, concerns or potential hazards with the walls, facility, equipment, or ropes to a member of the staff.
RESPECT THE SAFETY OF OTHERS: You must be aware of the possible trajectory of another climber's fall, particularly with overhanging walls. Never stand, sit, or walk in an area where another climber could fall. Always look at the climbing walls around you, especially when walking through the gym, to see where climbers are on the walls. Make wide turns around feature areas. Do not climb above or below other climbers.
EQUIPMENT: Only UIAA rated equipment manufactured specifically for recreational climbing is allowed. Please use equipment in accordance with the manufacturer's instructions. We reserve the right to deny the use of any particular item of gear within the facility. Use any equipment at your own risk. Climbers must wear specifically manufactured climbing shoes. No approach shoes. No loose chalk, liquid chalk, or chalk blocks allowed in gym. Chalk balls must be confined to a chalk bag. Chalk bags not being worn by the climber need to be placed as close to the wall as possible. Shirts must be worn at all times. Tank-tops are acceptable.
PERSONAL ITEMS: Please keep personal items out of the active climbing areas. River Rock is not responsible for damaged, lost or stolen items.
FOOD/BEVERAGE: No food or drinks are allowed in the active climbing areas.
SUBSTANCE POLICY: No climbing, bouldering, operating the auto belay, or belaying of any kind is allowed while under the influence of intoxicants or controlled substances.
BE ADVISED: River Rock reserves the right to alter, add, remove, or make exceptions to any and all posted rules at any time. We may remove participants from the facility or permanently deny, or deny for a specified time, access to its facilities to any individual for: breach of contract, disregard for the rules and policies, not following staff direction, or for any conduct that is viewed as unsafe or inappropriate; without refund or compensation.