Birthday Parties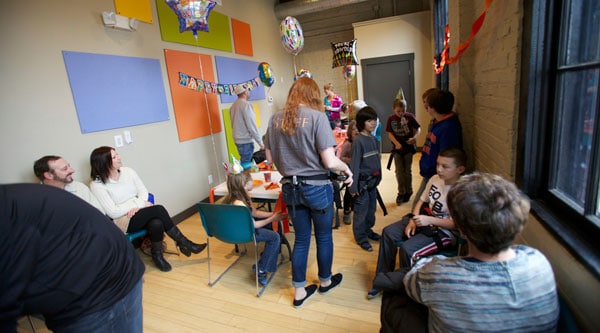 We currently offer party packages for current River Rock Members only…
Birthday Package Includes:
Pre-climbing gear-up and introduction to staff
Over 1 hour of private climbing in the Cove area exclusive to your group
30 minutes of private party time in our Party Room after climbing session
Gear rentals (climbing harness and shoes) are included
1:5 ratios of staff to children to assist your group for the duration of climbing activities
Pricing (reflects member discount)
$200 for up to 10 climbers
$275 for up to 15 climbers (15 participant maximum)
No food, drink, or paper products are provided; host is responsible for those items.  Our staff will set-up/breakdown the party room and clean-up post party.
Time options are:
Weekday
Friday, 6pm – 8pm
Other Monday – Friday parties are based on gym availability
Weekend
10am to 12pm
1pm to 3pm
4pm to 6pm
Times are first-come, first served, reserved by non-refundable deposit of $75.  Our limited party schedule will fill up quickly, so we recommend no less than 2-3 weeks of advance notice.
THE DETAILS…
Each participant must have a visitor agreement completed and signed by a parent or legal guardian.  Every adult (climbing or not) must also complete the facility visitor agreement to enter the gym. Sorry, we can't make exceptions to these policies. Please avoid disappointment by ensuring that everyone in your group has a completed visitor agreement.
Click HERE to visit our River Rock visitor agreement page.
Saturdays and Sundays: 10am, 1pm, & 4pm (start times).  We can also do weekday events!
We recommend that the host arrive 15-20 minutes in advance. Guests should arrive punctually. We can start late to wait for stragglers, but the end time is fixed.  Our packages provide 20 minutes of instruction, 60 minutes of climbing/wall time/games, and 40 minutes for refreshments.
Climbing harnesses and climbing shoes are provided for all participants. We recommend clothing that allows freedom of movement. Please, no baggy pants, skirts, or short-shorts.
Supervision and customer service are our top priorities. Our lead staff member will serve as your "River Rock host" and group facilitator.  We provide one additional staff member for each additional 5 participants you have paid for.  Staffers provide facility orientation, outfit the gear, handle the belay ropes and coach the kids.  Most of all they make sure everybody has a great time! Tips are not included. If you feel that our staff did a great job, feel free to let them know.
Please review our general facility rules prior to your group's arrival.  Click HERE to view.
We start all parties in our party room for orientation and "gearing-up".  Once ready to climb the group will move into the gym to a more private area to climb.  At the 80 minute mark of the scheduled start time the group will return to the party room for your own activities.
You will have exclusive use of our party room for the scheduled duration of your party.  You are welcome to bring balloons or other decorations, but please be respectful of our facility by not decorating with items that may damage the interior of the room.
The room is also equipped with a sound system, so feel free to bring an iPod or iPhone to plug into our docking station.
Very Important! The party room must be vacated within 15 minutes of the scheduled party end time. Party groups have exclusive use of the party room.  All food, candy, drinks, refreshments, party favors, and personal items must stay in the party room and not go into the gym.
You are welcome to bring your own refreshments. We have a small dormitory type refrigerator for your food and drink items.
The minimum age for our parties is five (5) and dependent on a proper fit of participant in the climbing harness. Our harnesses are "one size fits most" and usually accommodate up to a size 46″ waist size. The auto-belay devices allow a weight range of 25-310 lbs.
A non-refundable deposit of $75 is required to hold your reservation. We will not guarantee that a requested time slot will be held without a deposit.   Our staffing is fixed two weeks out and we may not be able to add additional participants after that point.  If additional guests turn up on the day of the party we cannot guarantee their entrance into the gym to participate.
In the event of a cancellation with less than two weeks notice your deposit is forfeited.  If you cancel with more than two weeks notice from the date of the event your deposit will be held as a credit to use at the gym for up to one year.
In the event of cancellation on the River Rock's behalf every effort will be made to reschedule and all fees will be refunded.
No coupons, discounts, or special offers can be applied to these events.
If your ratio of participants does not meet (fewer than) contracted terms; adults may participate to make up that number.  For example: your group is paying for up to 15 party participants, only 12 are coming, three adults or siblings may climb and participate.
To Reserve your River Rock birthday party today, please email General Manager Jared Rigby or call the gym, 540-685-2360